Did you listen to Gun Nuts Radio last night? Because if you didn't, you missed a great show. We were joined by James Yeager of Tactical Response, one of the leading self-defense schools in the country. The topic of conversation ran the gamut from the self-defense mindset, to the value of playing games such as IDPA, and even to a discussion on gear. You can click this link to download the show, or click the next link to download an .mp3 copy of the show.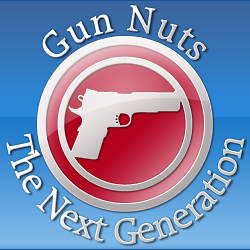 James was a great guest, and we're planning on having him back again in the future, as some of the topics we just glanced over could have entire shows devoted to them. I can't encourage you strongly enough to listen to us live, as it's the only way to get the full Gun Nuts Experience, including live video feed of the host during the show. If you'd like to subscribe to the show, you can follow the link for instructions on getting Gun Nuts on iTunes.
Join us next week for a Tea Party wrap up show. As you know, today across the nation in "celebration" of Tax day, conservatives, libertarians, and people who are just generally fed up with the spending habits of the government are gathering to protest the outrageous taxation being levied against us. Next week's show will be all call-ins – we want to hear from you, and from your Tea Party experiences.