Going to Purdue University, a lot of my friends during the latter half of my collegiate years were engineers (in fact, I started college as an engineering major).  As engineers, they did and still do have a deep and abiding passion for building things that are "disaster-proof", or as my roommate called it "over-engineered to the point of ridiculousness".  You can see that same school thought is populated into the design philosophy of some firearms companies, with Ruger being the most prominent example.  Now, when I'm saying "over-engineered", I do not mean that in the pejorative sense as it's sometime used.  What I'm saying is when something is properly over-engineered, it extends the service life of Item X well past the failure point of Item X's market competitors.
A great example of this is the Ruger Security Six revolver, which started life in the 70s to compete in the at-the-time service pistol market against the comparable revolvers from Colt and Smith & Wesson. Anecdotal evidence suggests that the beefed up Security Six frame could tolerate a steady diet of .357 Magnum ammo over it's service life, while the competitor .357s from S&W and Colt would lose their timing after many fewer rounds than the Ruger revolver.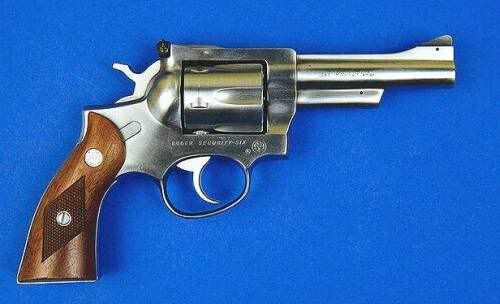 If you look at the two above images, note the comparative "beefiness" of the top strap on the Ruger Security Six (pictured at top) vs. the top strap on the S&W Model 19. While I'm not knocking the Model 19 in any way, the Ruger simply has more steel in one of the highest stress areas on a magnum revolver. The additional beefiness (new favorite word) of the Ruger makes it more resistant to erosion of the top strap due to magnum loads. The top-strap is the most visible external piece of over-engineering on the Ruger revolver, which allows it to service as an example of the overall design philosophy. If one were to detail strip the guts of the above pictured revolver, you would find that the internal timing pieces (such as the pawl and cylinder lock, etc) on the Ruger are generally larger and more robust than on contemporary revolvers.
Now, this does not mean that the Ruger is a "better" revolver. However, it's worth pointing out that there no sections in reloading manuals labeled "Smith & Wesson only" or "Colt only", but there are sections labeled "Ruger only".
This week, we're going to continue to explore different schools of thought in handgun design – we'll also look at elegance in design, as well the point where over-engineering something takes it from a robust, good idea to the land of bad, bad ideas.