I'm back in Indy after heading down to Tennessee to shoot the Indoor Tactical Pistol Match at Gunny's.  I met Linoge and hung out for a bit with Say Uncle, and I managed to do some shooting in between bullcrap sessions.  Before I get to the results, I'll provide a little background on the match itself.
The match was held at Gunny's Indoor Range in Maryville, TN; which apparently is a relatively new facility.  The range itself was nice enough, for a six stage match with about 30 competitors it was a pretty tight fit.  They had it set up 3 stages at a time, so you'd run the three squads through the first three stages, then take a break while they reset for the next three stages.  A couple of pictures – stage 1 and stage 2, sorry for the quality but all I had was the camera on my blackberry.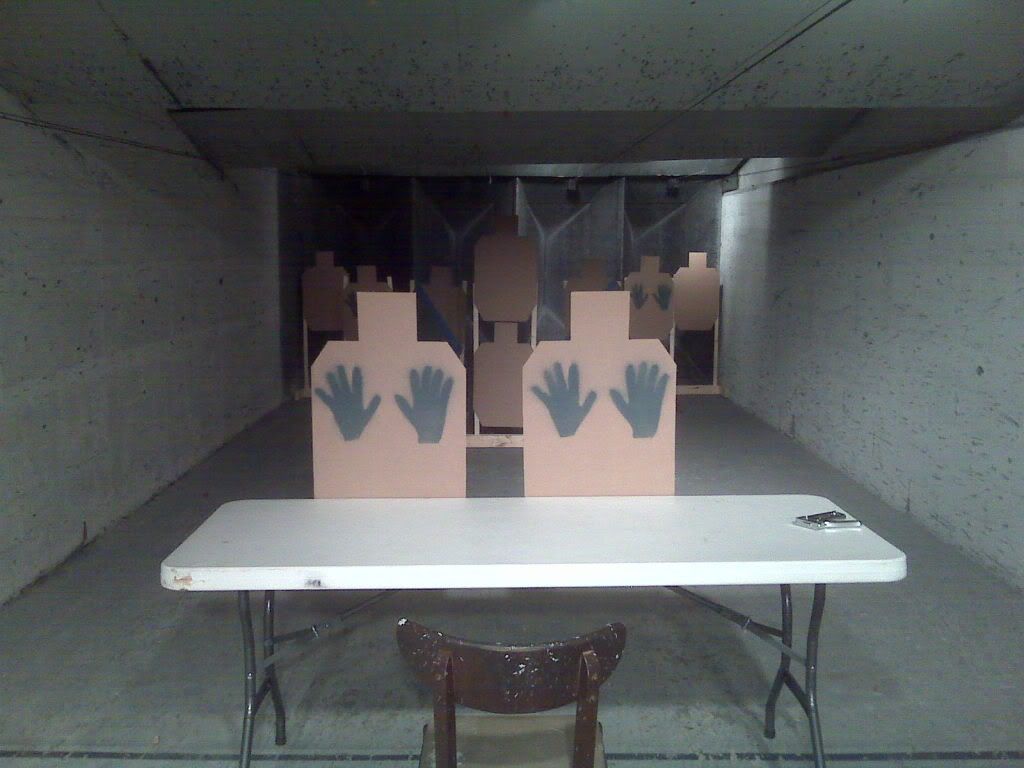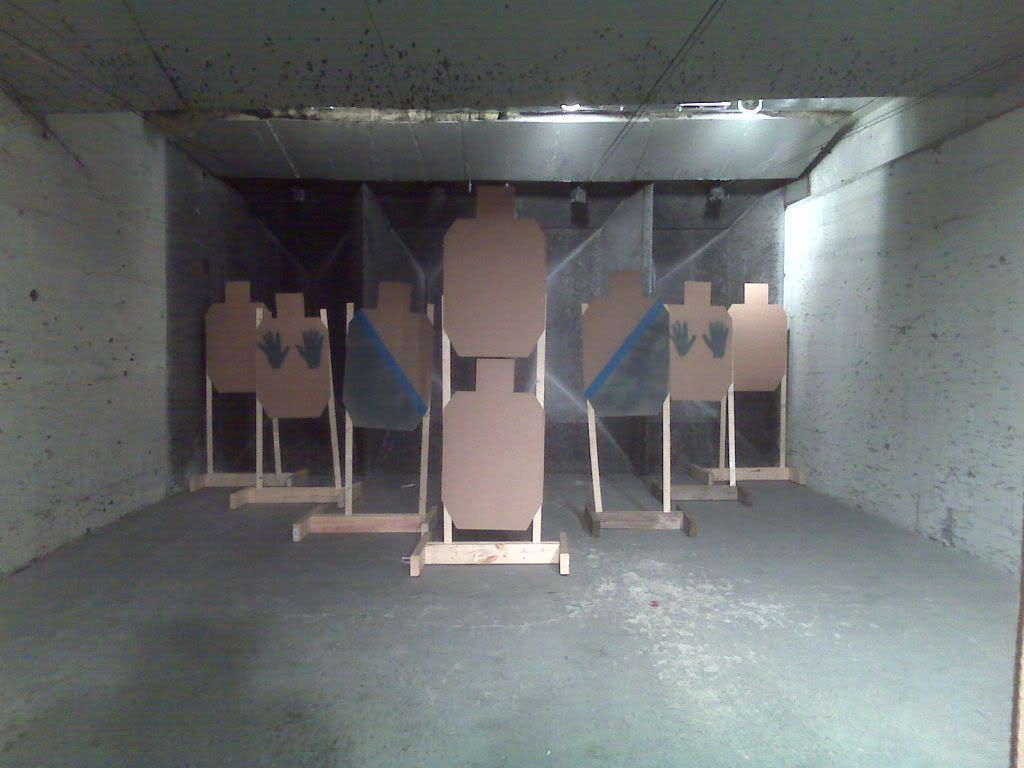 What you can't see on stage one is that those pesky no-shoots obscure two more targets which were partially obscured by hard cover anyway.  I managed to drill a sexy two shot group right into the hard cover on one of the stage one targets, and then didn't bother to oh, I don't know, shoot it again.  Luckily, that was my only major mistake of the day, as I managed to get through the day without shooting any hostages.  That alone was a major feat, because the course was littered with no-shoot targets.
At the end of the day, I managed to finish 6th out of 26 shooters, and in a stunning event, beat a guy who is a USPSA Master classed shooter, which is the first time that's happened.  Unfortunately, my scores weren't good enough or bad enough to come away with any of the really sexy prizes.  The scoring system used is called the Lewis Scoring system, which works by breaking the shooters down into thirds, regardless of classification.  Basically, you end up with an A, B, and C group of shooters, with "1st place" being given to the top shooter in the A, B, and C category.  I shot well enough to be classified with the "A" shooters, but not fast enough to beat the guy who won the match (note: 1st and 2nd place beat the rest of the field by a country mile, 3rd through 7th was a horse race to the end).
Linoge finished as the top shooter of the "C" group, which means at his very first tactical match, he made out with a nice Mossberg 500.  That's how you introduce people to tactical shooting and get them to come back!
I took home some training notes for myself as well:
Get the sights changed on the XD.  I've got the Heinie sights I want on order.
Practice reloads.  There were a couple of stages where I didn't mash the magazine ejection button on the XD hard enough, forcing me to have to mash it twice; that cost me precious 10ths of a second.
The match itself was fun – it was the first match at Gunny's, and you clearly tell that.  The RO's were green as frogs, which led to some inconsistent instruction and a little bit wild muzzle direction from some of the newbie shooters.  However, nothing was so bad that it can't be fixed with a little bit of practice and repetition.  I hope that Gunny's continues to run this match, as with time it should turn into a fun little winter retreat for Tennessee shooters.