As I mentioned in the show summary post, last night a disturbing development was brought to my attention: namely that HS Precision, a manufacturer of high-end rifles had printed a glowing endorsement/recommendation letter from Lon Horiuchi.  Here's the actual back cover of the HS Precision catalog, complete with the letter.  Click the image to make it larger.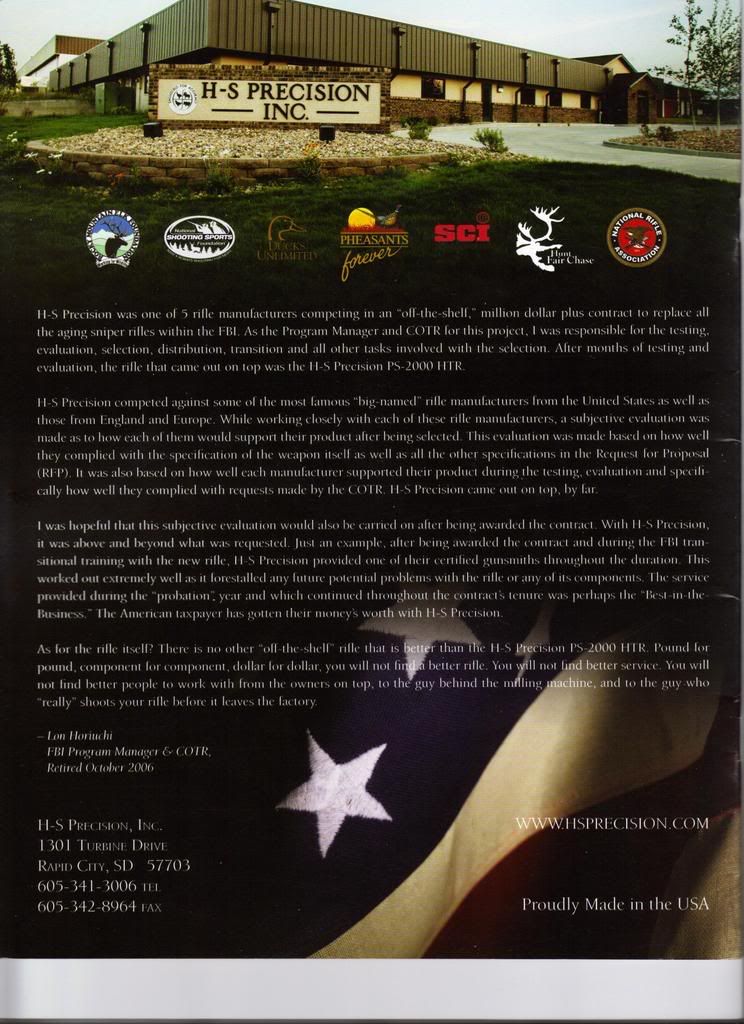 Now, HS Precision is free to run their business as they want, and to receive endorsements or pay people to endorse their products, no matter how I feel about it.  It's their right to conduct their business as they please.
Going hand in hand with that is my right to say that printing an endorsement from Lon Horiuchi, the sniper who managed to shoot an innocent woman holding her baby in the face – the same Lon Horiuchi who Jeff Cooper wanted charged with murder – is a poor business decision, and a business decision that guarantees that I will never buy a rifle from HS Precision.
Honestly, I think this is in incredibly poor taste – no matter what you think about the guy, he's controversial enough that a ringing endorsement from him is going to go a long way towards damaging your credibility amongst the pro-gun community.
I'm very disappointed with the lack of judgment from HS Precision – and I can assure you that if I'm in the market for a good rifle, it won't be an HS Precision rifle.  If they were to print a retraction and run away from this endorsement, then I would change my tune, but until then – buy FN Herstal.
I'd like to thank TD and Ry Jones for bringing this to my attention.
Update: David Codrea confirms that this is definitely not a hoax.
This entry posted at the Gun Nuts Blog under "Boycott HS Precision".