So I have a new (to me) shotgun. My father in law had a couple of shotguns that he never used that were gathering dust in his attic out on the farm, and figured that I could give them a good home and some good use. One is a single shot break action of indeterminate origin; and the other one, the one I'm most excited about is the Remington 870 in great condition with a really long barrel.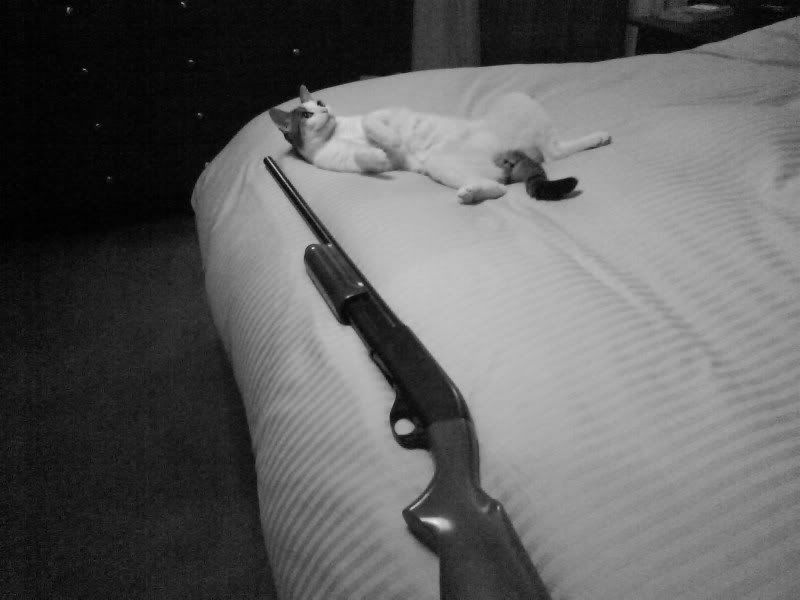 You can click the picture for the fullsize black & white version – which actually looks better in the low light than the color version.  Apparently my stupid cat Malcolm wanted to be in the picture, so he decided that it was going to be all about him.
The 870 has what is probably a 28 inch barrel (really, it's huge) and a 2 3/4 inch chamber, so no 3 inch magnum loads for me.  I'm actually fine with that latter fact, as I find shooting more than uh, one or two shots with the 3 inch rounds to be manifestly unpleasant after a while.  The thing that really makes me happy about this gun is that now, without spending any money, I have my goose gun.
As previously discussed, the Frankenshotty, being a non-magnum 20 gauge, wasn't enough gun to "reach out and touch them" when it comes to knocking Canada geese out of the sky, but the 12 gauge, even with 2 3/4 shells is definitely enough gun to bring them down.  I can now finally begin to wage my war on the pooping menace.