This is the gun porn post a lot of you have been waiting for, the one where I haul out the semi-automatic rifles and talk about them.  With only a couple of days at the NRA Show, I had to pick and choose my targets very carefully, since I also needed to get shots of some of the itty-bitty carry guns as well.
To get things started, here's a re-run of Mrs. Ahab with the Thompson .45 ACP Pistol.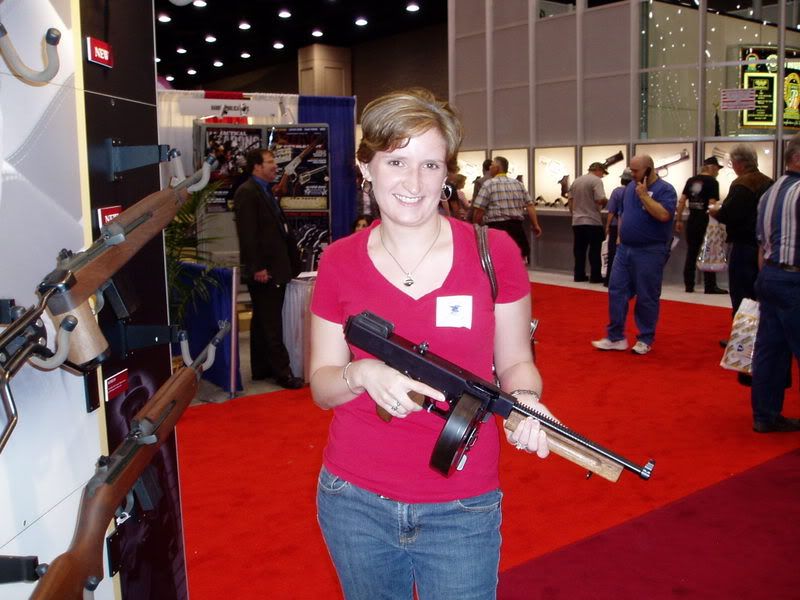 While not a semi-auto rifle per se, the Thompson pistol actually has legitimate self-defense application.  Equipped with a stick magazine instead of the drum, it makes for a flat, easily carried defensive firearm in an area where open carry would be acceptable.  Not that you should dump your regular carry gun for one of these, but it certainly would be cool, wouldn't it?
Due to the huge size that it would make the post, the rest of pictures are contained beneath the cut – click it to make Paul Helmke cry.
The first rifle is a re-run for me, the R-15 VTR which I covered a bit at SHOT.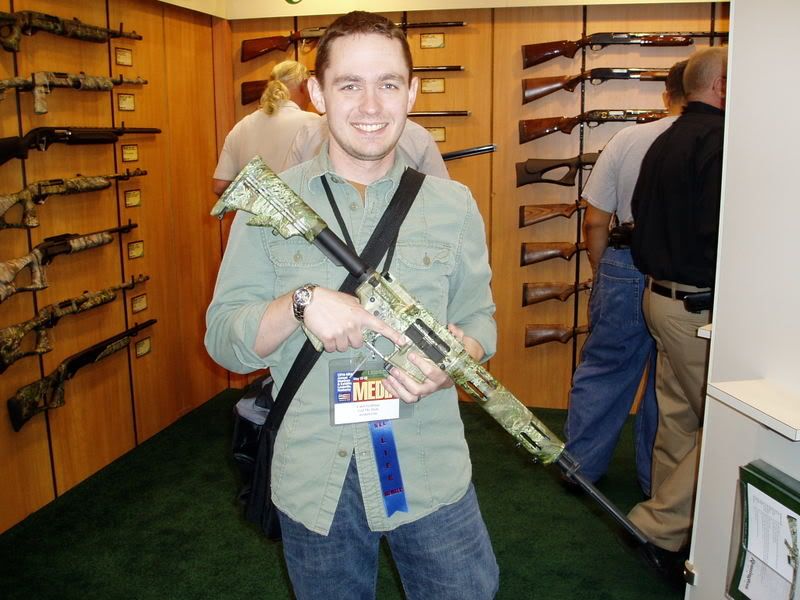 This is the version in either .204 Ruger or .223, with a factory 18-inch barrel and a telescoping stock.
As I mentioned, it will also take any aftermarket AR magazine, so you're not limited to the 5 rounder that it comes from the factory with.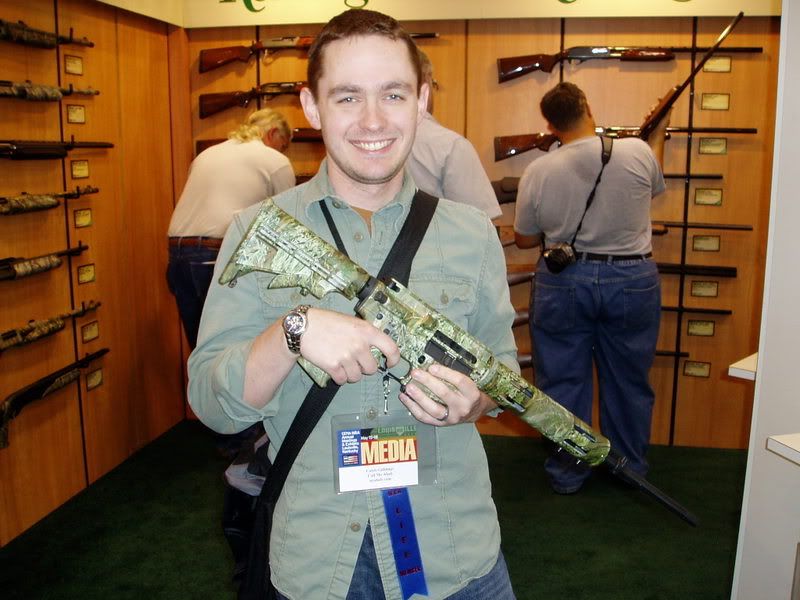 Shown here with stock collapsed, or in the "travel" position.  For me, having the stock collapsed makes the length of the rifle perfect for moving around, and while it's not as stable for shooting, it's still steady enough for a quick snap shot on that coyote.  (hmm…seems my finger is misplaced – ed)
MSRP on these is $999.99, which is about what I can find them for online.
The really cool new rifle from Remington is the new R-25 – continuing the use of the AR platform by Remington.
What makes this rifle cool is that it's chambered in either .308, .243 Winchester, or 7mm-08.  As you can see, it comes from the factory with a 4 round magazine to make it legal for hunting in states that allow semi-automatic rifles for hunting.
Like the R-15, the R-25 will accept aftermarket magazines – anything that fits the AR-10 style rifles is going to fit your new R-25.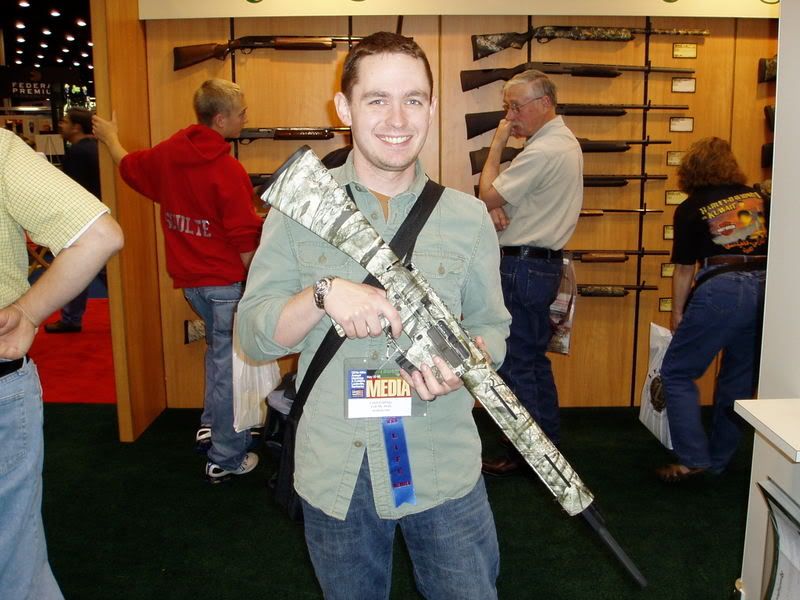 The R-25 would actually make a pretty studly gun for my planned "political incorrect pig hunt", I'm relatively confident that a .308 round would do a number on any hog I run across, with the exception of one of the giant porkers.
The downside of course is that it is a bit heavier than the R-15, so I wouldn't want to pack it around for too long. 8.75 pounds can get pretty heavy.
Now, this is neither a semi-auto nor a tactical rifle, but I'm throwing it in here because of the possible self-defense applications.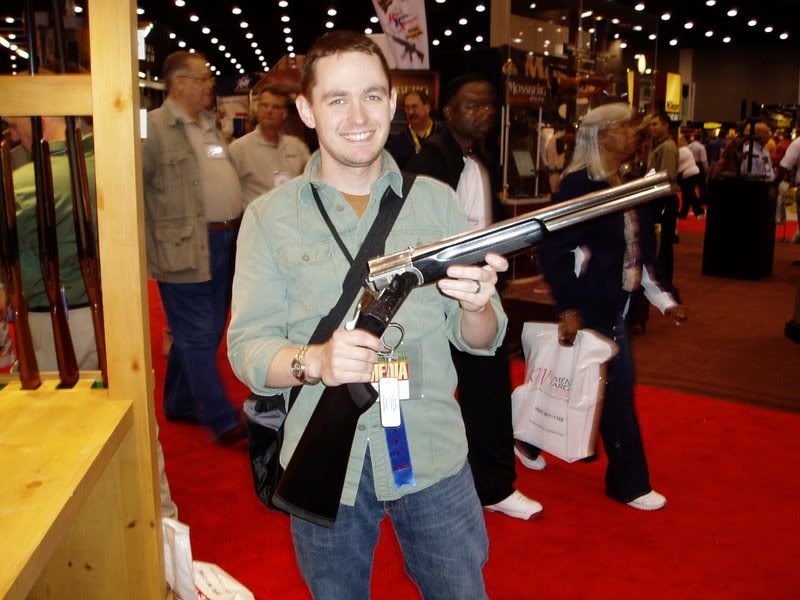 This is the Stoeger Condor Outback, the one I'm holding is in 20 gauge.  It comes with 20 inch barrels, and the Outback model has fixed rifle-type sights.  I really love this gun for home defense use because of the sights, and it would also make a quick and handy deer gun for states that require you to use a shotgun instead of a rifle.
The next booth I hit up was the CZ-USA booth, where I messed around for a bit with the VZ 58 rifle.
Mrs. Ahab pointed out to me that with my green shirt and satchel bag, I look like I'm ready to lead the people's uprising against the capitalist pig dog oppressor or something.
That being said, this rifle is a bit lighter than a standard AK, despite have a milled instead of stamped receiver.
Other features you won't find on a standard AK are the ability to pull the gas tube without tools, and a last round hold open function on the bolt.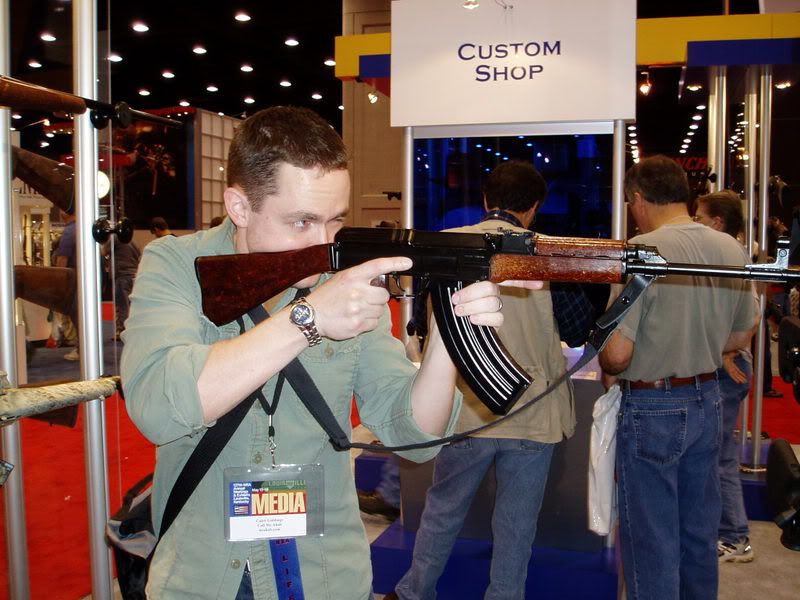 It handles pretty well – if you're looking for AK style rifle but want to get some excellent quality construction, you wouldn't go wrong with a VZ 58.  CZ-USA makes excellent quality firearms, and their pistols are doing a quiet takeover of USPSA competition.  The VZ 58 would be a great home defense rifle, or a rifle for three gun if you're so inclined.
Last but certainly not least is the FN SCARS rifle system, held here by Sebastian from Snowflakes in Hell.
It was a lot heavier than I expected, and I couldn't help thinking that I wouldn't enjoy dragging it all over the mountains of Afghanistan or even carrying for an extended boarding of a suspicious vessel.
It does take STANAG magazines, so you can throw your AR 30 rounders in there and expect the gun to run correctly.  The folding stock would help a little bit to make it more comfortable to carry around, but not so much that I'd willing set aside an M4 for the SCARS.
I obviously had a great time at the NRA show, again I can't tell you how much more fun it was to have someone there with me taking pictures.  Tomorrow's gun porn will be itty-bitty pretty carry guns, featuring Mrs. Ahab.