This is why you people actually read my blag after events like this – the gun porn. Here it is in all it's fantastic glory. This part one of a multi-part series: part 1 is general stuff, part 2 focuses on tactical rifles, and part three is itty-bitty-pretty carry guns, featuring Mrs. Ahab.
One of the coolest guns is the Mare's Leg .44-40 lever gun.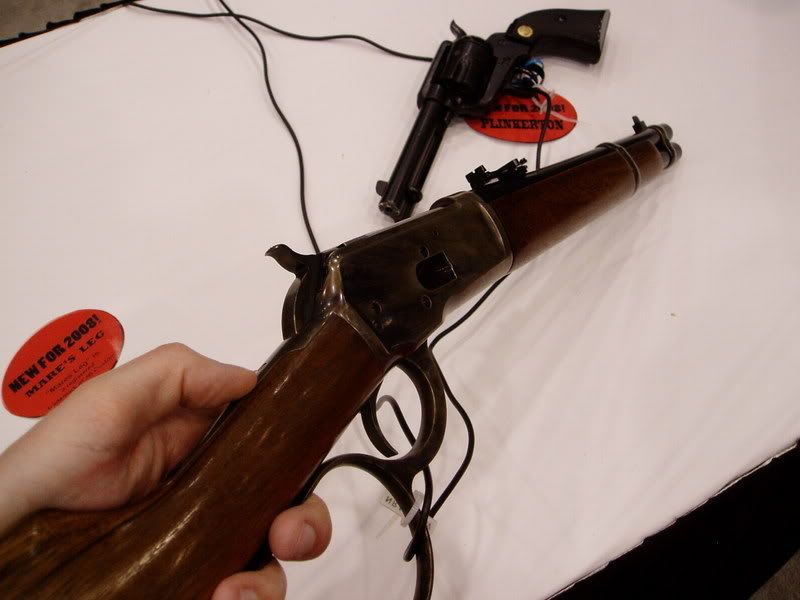 This a custom gun from J.B. Custom, the production version usually doesn't have the large "Rio Bravo" style cocking lever. Since this gun is chambered for .44-40 or .45 Colt, it's legally classified as a pistol, which means no need for any of that pesky SBR paperwork to fill out with ATF. How cool would it be to use one of these at my next pin shoot?
I'm putting the rest of the photos beneath the cut, because otherwise this would be a HUEG post and eat up most of the front page. Click it. you know you want to.
Up next I rolled over to Miniature guns booth – if you take a picture of them without a reference for scale it doesn't do them justice as you can see here: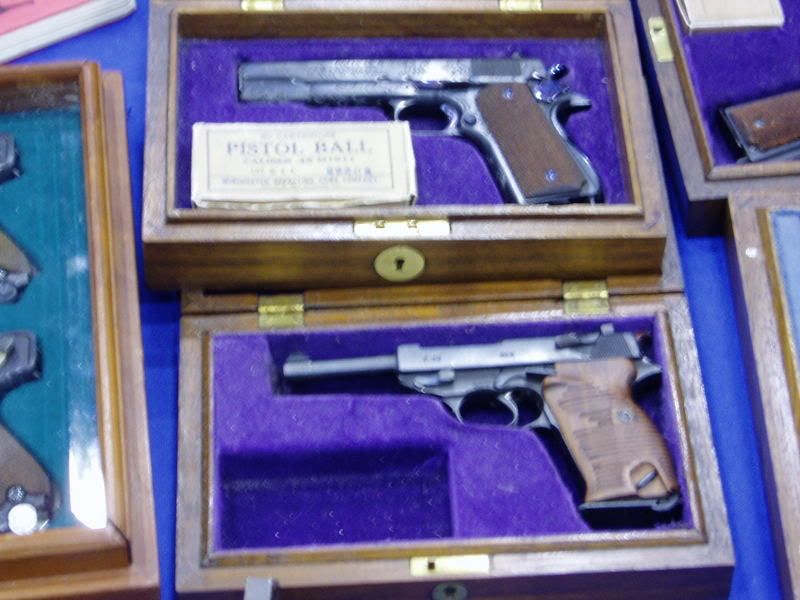 From that picture, you'd think that it was just another 1911 and a Walther P-38 in extra ordinary condition.
However, when you see their guns next to a 20 dollar bill for scale purposes, it puts a whole new light on the intricate workmanship and attention to detail that goes into these little guns.
I wandered over to the American Tactical Importers booth, the importers of the GSG-5 to see if they had any new cool stuff since SHOT. I was not disappointed. They had the new pistol version of the GSG-5 (a .22 LR MP-5, essentially), as well as some new handguns which they're importing from Turkey.
You will be the coolest mall ninja in the Counter-Strike club with that, I assure you.
One of my favorite booths was the Charter Arms/MKS Supply booth. Back at SHOT, I had talked to the Charter guys for a bit about their new revolver in .327 Federal Magnum. At the time, they only had the demo model, but for NRA Convention they had two working models on display, one with a 4 inch barrel and another with a 2 or 3 inch tube.
4 inch barrel version of the .327 Federal Magnum revolver from Charter. Note the rear adjustable sights. This gun was light and would pack easily as a primary carry gun, and would also make a great gun for hikers and campers who don't have to worry about anything other than coyotes and 2 legged varmints.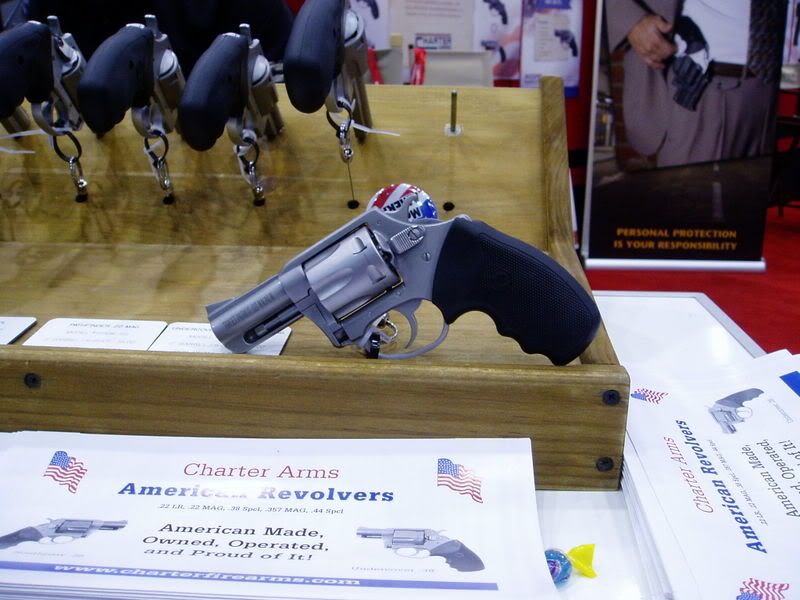 3 inch version with fixed sights – because of the price point on these guns, they take the .327 Federal and make the guns at least affordable for people who might not be able to drop $500 on a Ruger SP101.
Still at the MKS booth, I walked around to the other side to look at Hi-Points, because uh, I don't know. I've always had a love-hate relationship with Hi-Points, I love them in concept because I think everyone should be able to own a reliable pistol for a low price point, but I hate them because the only one I ever owned was unreliable and unpleasant to fire.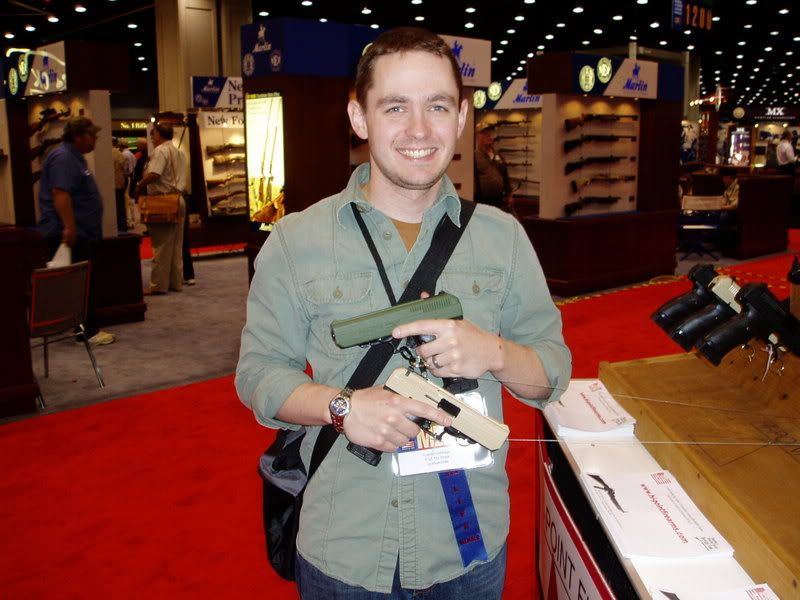 Hi-Point introduced some new finishes for their full size .45 ACP/.40 S&W pistols this year, adding an olive drab and the nigh ubiquitous "desert tan/coyote brown" finish. "I have two guns…one for each of you."
What really kills me is that the grip on the Hi-Point fits my hand really well, every time I pick one up I'm tempted to try my "budget gun" experiment again.
One of the neatest concepts to me is the Mossberg/Taser X12 Less-Lethal Shotgun. I blogged a bit about it in March and am still enamored with the concept. I really like the idea of it, but I remain skeptical about the actual deployment of it until I've seen how the "less-lethal taser rounds" work in actual hostile conditions.
If this becomes available for the general public and I ended up with one, I'd probably call it "Bumblebee" after the Transformer. Come on, look at it. The demo version had a taser attached under the slide, which acted as a forward handgrip as well as a laser sight. Attaching a taser to a taser shotgun does seem just a little redundant to me, but what the hell, it's still pretty damn cool as far as I'm concerned.
I made one final stop at the Thompson/Kahr/Auto Ordnance booth – I wanted to get a good picture of the .45 ACP Thompson Pistol that they've got for this year.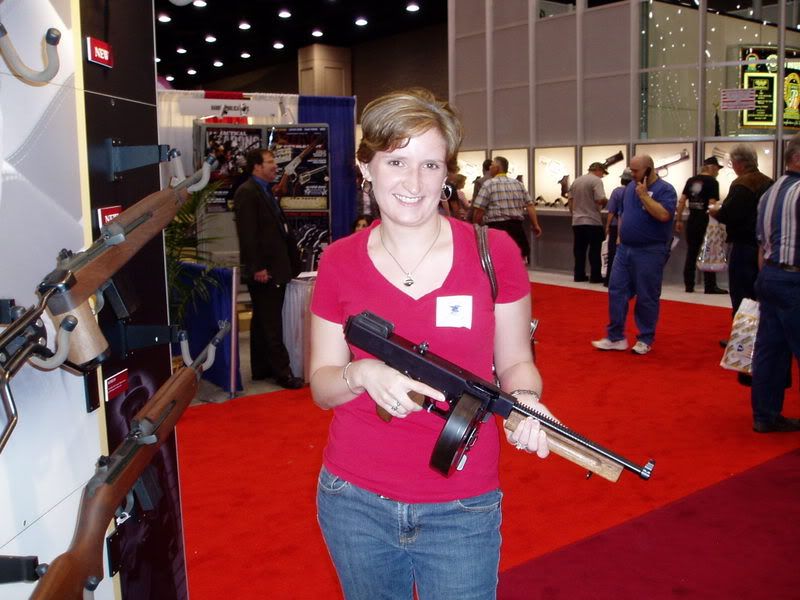 It looks even better with Mrs. Ahab holding it than it did sitting on the shelf. I tried to convince her that it would make an excellent carry gun, but we'd have to invest in a new purse for her to carry it in.
Mrs. Ahab will feature prominently into the itty-bitty-pretty carry guns feature as well – I must say, it was nice having that second pair of hands to help take pictures and hold guns during the show.
More gun porn to come as I process all these photographs.