[display_podcast]
I started day two of the SHOT Show at the Glock/Lipseys breakfast, as the guest of Ryan Horsley from Red's Trading Post. For a guy that's like a foot taller than me, Ryan's not bad. Actually, I learned a bit about the actual industry of selling firearms for a living, as well as having a bit of discussion about Ryan's current ATF woes. The neat thing about the Glock breakfast was that the entire Glock shooting team was there, as well R. Lee Ermey, aka The Gunney. I got to me Ermey as well as the Glock shooting team.
But no one ever made any money in this business lingering over free coffee and sausage so I headed out to the Ruger booth to get a look at some new products. You can listen to my description of the new products by clicking this link for exclusive audio coverage. The two biggest pieces of news from Ruger are the new NRA Mini-14, which has a 16 inch barrel and comes standard with two 20 round magazines; and of course the LCP. DownRange TV has some great coverage of the LCP, as well as Michael Bane's thoughts on it. I did manage to get a picture of the LCP in my hot little hand.
As you can see, it is a little itty-bitty gun; and bears more than a passing resemblance to the Kel-Tec pistols. I personally think this is a fantastic choice for Ruger, and really does show that Ruger is producing the guns that people want. Everyone wants compact carry guns, and the new LCP from Ruger is small enough and light enough to carry practically anywhere. It's priced right as well, going for a mere $330 retail.
After Ruger, I headed over the North Hall to check out LaserShot, H&K, and FNH. Unfortunately, the pictures of the cannon I reference in the audio clip didn't come out; so you don't get to see the giant-ass gun H&K brought with them.
I wondered over the Kel-Tec booth, where I got a look at the bullpup rifle they announced at last year's SHOT. According to the guys at the booth, they're looking to actually go into production this year in Q3, with a retail cost around $2000 for the base model. Additionally, in the next couple of months, Kel-Tec is going to release a new version of the SU-16 rifle. The SU-16, or "Sport Utility" rifle, is a 5.56mm NATO rifle with a folder stock, that's also pretty light weight and handy. The new version of the rifle keeps the standard features that made it popular, but add a pistol grip stock for added control.
We rolled to the FNH booth, where we got a look at the new FNAR rifle; it's a 7.62×51 NATO rifle based on the Browning BAR design, but accepts FN FAL mags. It's been updated for the 21st Century with the addition of a pistol grip, a new buttstock design, and superb accuracy. Every FNAR must meet a 1 MOA or better accuracy standard, to quote FN's literature, you have bolt action accuracy in a semi-auto rifle. Plus, it looks cool.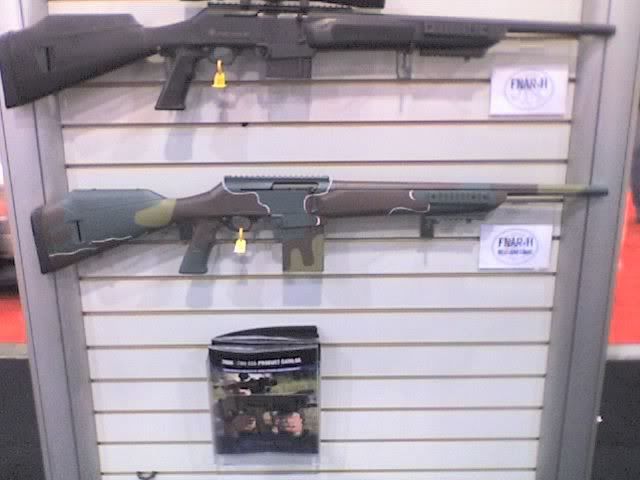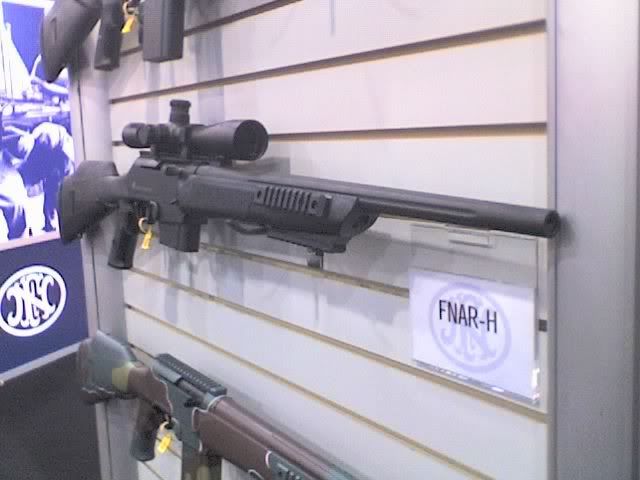 FNH also has a new rifle series, the PBR or Patrol Bolt Rifle. Essentially, it's a lighter, more portable version of the PSR series of rifles. FNH appears to be trying to get this rifle into police cars as an alternative to the AR patter rifles. I'd imagine that the thought there is that some departments may be uncomfortable issuing "assault rifles", or may simply desire a bolt action platform. It's available in .308, .300 Winchester Magnum, and .223 Remington. My thoughts on that and the new FN pistols are here in audio.
After FNH, I made my way over to EAA's booth. I mentioned yesterday that EAA had a big new product for 2008, and I wasn't kidding. Can you say .50 BMG?
EAA is now the exclusive importer of Zastava firearms, which includes the Black Arrow rifle you see above. I don't know if you can call any .50 BMG entry level, but this is a good rifle for that. Zastava makes excellent products, and with the possibility of an anti-gun White House, .50 BMG rifles are something you should get while they're still legal.
Some time in there, I ate lunch, as well as met Jim Scouten from Shooting USA, as well as Michael Bane from the Outdoor Channel. I had wanted to meet both of them for a while, so this was a pretty neat opportunity for me. I actually got to talk to Michael for a while, which was one of the highlights of my weekend. Of all the people I met, he is easily one of the most passionate and dedicated to the shooting sports; if he has a bottom line it's that our sport and rights continue.
After I got all my fanboy out of my system, I gallivanted over to the DSA Inc booth to check out their MP-9 pistol. Their newest upgrade to the MP-9 is a folding stock, which technically makes the weapon NFA, so you'd have to register it as an SBR. But even with the folding stock, it still fits in the standard holster for the MP-9, giving you a compact 9mm carbine in a small package. Now if I could just get one chambered for 5.7mm…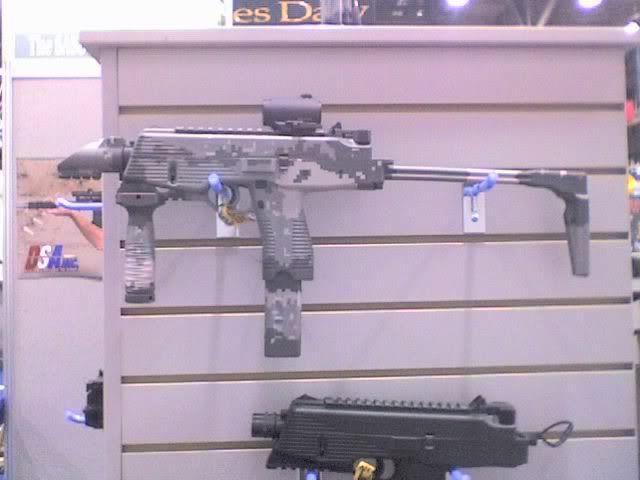 Other new products are from Beretta, which has a limited edition USMC M9 pistol available in Q2. It's neat looking, with limited run grips and custom engraving.
As you might have heard, Federal has introduced the new .327 Federal Magnum round, which exceeds the ballistics of a .38 Special +P in a package that gives you another round in a pinch. Charter Arms, making of the .44 Special Bulldog, as well as the only true lefthanded revolver on the market, have released a .327 Magnum version of their popular, and affordable snub nosed revolvers.
My last real stop of the day was the Stoeger booth, which was also part of the Uberti booth; since they're both owned by Benelli (which was right next door). Stoeger has their excellent lines of afforable shotguns, from the Condor over/under to their autoloaders.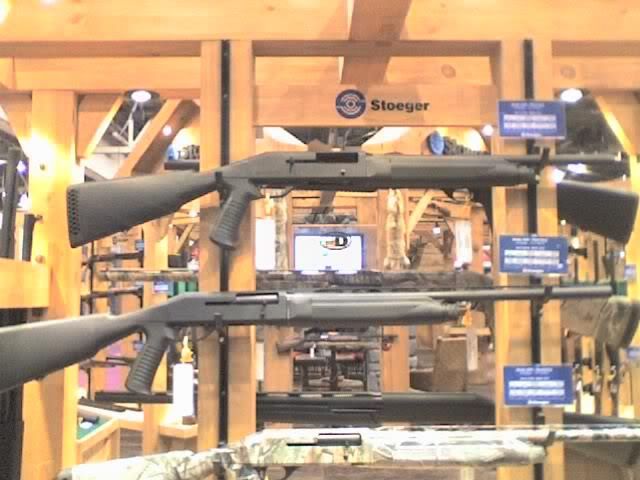 The last thing I'm going to leave you with for today is a video I shot at the Uberti/Stoeger/Benelli booth. If you like single action wheelguns, you might want to look away, as you'll probably cry a little bit from all the beauty you're about to see.
I've got a lot more updates to come; new products from Remington, Kahr/Thompson, Walther, you name it!