The alternate title could be "I almost had a bad day" at the range. I took my new (to me) Taurus .45 ACP snubbie and a box of Wolf steel cased .45. Since I hadn't shot it yet, I just wanted to make sure it went bang, and to make sure that the star-clips didn't interfere with the cylinder movement (which they sometimes do).
I was banging away, happy as a clam, until at about the 5th cylinder full of ammo. I fired my five, but when I went to eject the rounds, they absolutely refused to come out. Prior to that, ejection had been stiff, but positive. For this clip (man, I don't get to say that often enough), the rounds just would not come out. We finally had to carefully bang the extractor onto the table to get enough force to drive the empties out of the cylinder, at which point I was able to diagnose "the problem".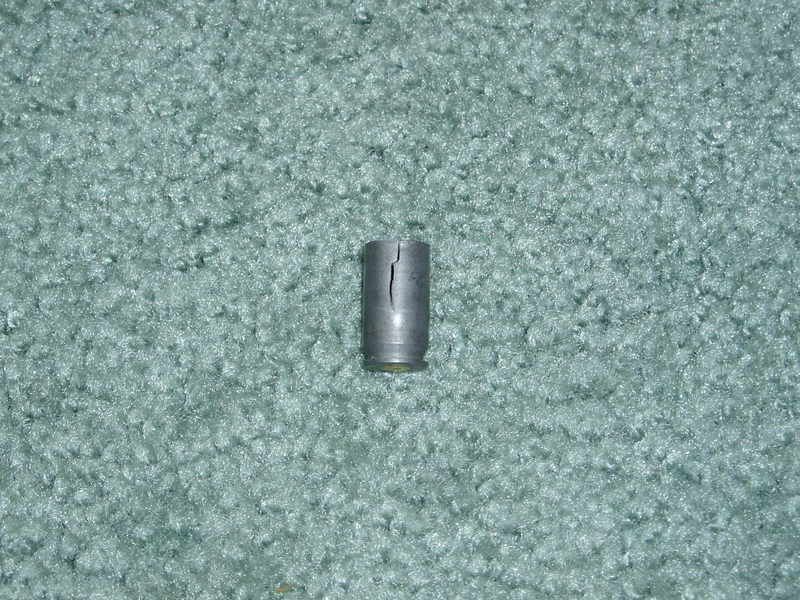 What you see before you is a classic split casing; which as most of you know is a Bad Thing. I am really glad that I was shooting a revolver, and not a semi-auto when this happened, because otherwise the possibility strongly exists that I would have had a Very Bad Day at the range.
I normally like Wolf ammo, because it costs about five bucks a box less than most brass cased ammo, even in .45 ACP. I don't like having to whack my revolvers on the side of a table to punch out empties, and I even less like worrying that the same steel cased ammo (albeit in 9mm) is going to blow up my handguns.
Ultimately, since I was running a .45 ACP wheelgun, there isn't any damage. The cylinder contained any possible damage, so I didn't have a bad day. I can say that I probably won't be buying any more Wolf .45 ACP ammo; even for 12 bucks a box it's not worth having to beat up my guns just to get empties out. Honestly, though – there is a price I'd be willing to shoot Wolf for. If it was eight or nine dollars for a box of .45 ACP, I'd shoot a lot of Wolf in my revolvers.
As for now, I'll stick to reloads for casual shooting, and buy good stuff for serious work.