.357 Magnum Stopping Power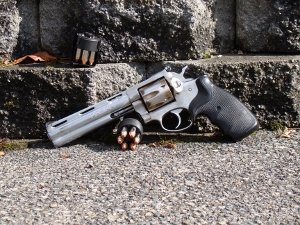 I grew up during the golden age of the wondernine. Every big PD in America was switching from wheelguns to Berettas and 3rd Gen S&W pistols. The gun rags of the era were filled with "9mm vs. 38" and "9mm vs. .357" articles. As is to be expected, most of the articles decried the downgrade in "stopping power" that the 9mm offered vs. the legendary .357 Magnum. The more sordid gun rags were filled with stories of bad guys going down after one hit from a .357 Magnum, reduced to a shower of gore by the powerful "man-stopper."
Probably the most legendary of the .357 Magnum rounds was the famous Remington 125 grain jacketed hollowpoint. Pushing an old school bullet at 1400+ FPS, the 125 grain JHP would frequently expand violently, but would have limited penetration. Testing of that old school load in ballistic gel generally produces about 10 inches of penetration and considerable expansion.
As bullet technology has advanced, the .357 has come along with it. Winchester offers a .357 Magnum load with their bonded PDX/Ranger bullet, and Hornady offers multiple .357 loadings with their FTX and XTP bullets. But the question is whether or not the .357 Magnum is really worth it any more? Back in the 70s and 80s, the Magnum made sense. The extra velocity when coupled with older bullet technology really did provide a bullet with better terminal ballistics than the .38 Specials riding in most police department holsters. But now? Not so much. I love my magnums, and I'll never get rid of them, but if I'm being honest with myself? There's not much of a place for .357 Magnums in the self-defense world. Now, if you want to talk hunting handguns and lightweight carbines, that's another story entirely. But the .357 Magnum is sort of like the .40 S&W now: it doesn't really offer enough of a performance upgrade out of a service sized handgun to be worth the extra muzzle blast and recoil you get for it.
If I'm going to carry a wheelgun, it's going to have .38 Special +P loaded in it. Modern .38 Special loads have come a long way since the 1980s. For new shooters, despite my deep and abiding love for the wheelgun, you should probably just get a Glock 19 or something like that. So for the .357 Magnum, its era of legendary stopping power is over. Unless you're going hunting, in which case by all means continue. I'll probably bring a magnum with me on a coyote hunt I have coming up later this year, but that's because rolling up coyotes with Hornady's lever gun .357 Magnum round is hilarious.